House Details


1310 Seasons Blvd


$179,900

Bedrooms:
4
Bathrooms
3
Total Sq. Ft:
2,365
Property:
Single Family Home
Year Built:
2004
County:
Osceola County
Zip Code:
34746
More Info
Contact information:

Email:
Marcy Mackey
Telephone: (800)544-7646
Mobile: (407)414-4051
Email:
Pedro Ramos
Telephone: (800)544-7646
Mobile: (407)729-7999
Tools:
Mortgage Calculator
Search For Properties
Seasons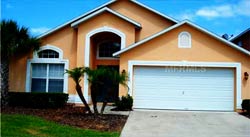 This beautiful home is one of seventy eight located in the Seasons Community in the center of Kissimmee. The Seasons Community is located just off Highway 192, which travels directly through the center of Kissimmee. However don't let the traffic and hustle bustle of the city scare you off. Seasons is a few blocks away in a secluded area, making this house a prime candidate for any buyer. With its perfect location and access to central Kissimmee it's the perfect solution for anyone wanting to get in on the action and entertainment of the Central Florida attractions. This convenient location is within walking distance of a Wal-Mart, making it easy to get the things you need when you need them. This beautiful and relaxing neighborhood is situated around a beautiful lake; just imagine waking up to Florida's beautiful wildlife every morning!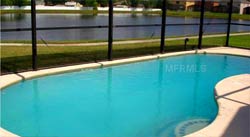 This amazing house has a pool located right next to the lake in a spacious screen porch. This large pool is the perfect solution to the hot and sunny days you can find all year round while in Florida, they call it the Sun-shine State after all! Surrounding the beautiful lake that is accessible from the backyard of this home is a path, for morning exercise or a leisurely walk. While very few homes in Seasons get the beautiful view and perfect access this house is one of and if not "the" best property in the neighborhood.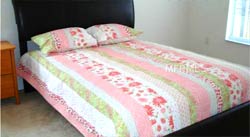 This house has three beautiful bedrooms, each with their own unique layout and space. This home has two master bedrooms, one with its own full bathroom and the other with a half bathroom. These newly refurbished rooms are just awaiting your finishing touch to give them that warm feeling you want to come to home to. Inside you can find a spacious guest room with a beautiful view of the lake from a large glass window. With these three great rooms the house can support a large number of guests or family all year round. The master bathroom has a beautiful garden bathtub with jets for a relaxing venture, as well as a separate shower stall, this large and roomy bathroom has all the space you will ever need!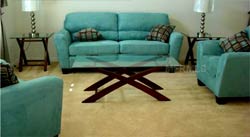 This beautiful home has two large and spacious Living Rooms, or a Living Room and Family Room. Each has its own set of brand new modern furniture. The living room has a large love seat, two chairs and two end tables, all beautifully surrounding a glass coffee table. The family room is located next to the kitchen and just several feet away from the pool that overlooks the lake. This large room has a corner couch that's perfect for relaxing in!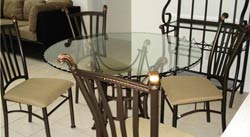 The house comes with a full-sized kitchen that overlooks the family room. With a dishwasher, stovetop/oven and microwave this kitchen is ready to go! The unique rap around design offers you a great view pool and lake, something to look forward to every time you cook! The full sized refrigerator and well placed cabinets provide you with all the room you need to store your food and utensils. On the opposite side of the kitchen overlooking the pool and lake is the dining room, in the center of the house making it accessible.
With a spacious two car garage there is a large amount of space in the garage for you and your family to park cars or use for storage.
Call Us Today!
(800)544-7646

Real Estate Contact Form