House Details


1409 Caring Ct, Maitland, 32751


$350,000

Bedrooms:
3
Bathrooms
3
Total Sq. Ft:
2,315
Property:
Single Family Home
Year Built:
2006
County:
Osceola County
Zip Code:
32751
More Info
Contact information:

Email:
Marcy Mackey
Telephone: (800)544-7646
Mobile: (407)414-4051
Email:
Pedro Ramos
Telephone: (800)544-7646
Mobile: (407)729-7999
Tools:
Mortgage Calculator
Search For Properties
Enclave Home Maitland -
$350,000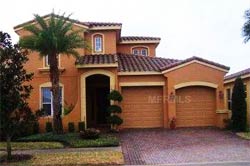 This beautiful gated development is a modern day neighborhood with beautiful views and a clean environment. What really stands out when you enter this community is the amazing effort that has been put into making this great place a pristine and attractive place to live. From the unique and creative architecture that can be found around every corner to the incredible mosaic images created in the pavement your mouth will cease to close until you enter one of these amazing houses. One thing that separates The Enclave from other communities in the Orlando area is the houses. Most builders sought to build duplicates of the same house during the expansion of the Florida population. However, here at the Enclave just about every house has its own creative architecture that sets it aside from the rest.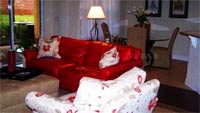 One of the great things about The Enclave is its location. It is located just a minute from Interstate 4, but not to close as to cause discomfort. With about two blocks of quiet business buildings and tree lines you can rest nicely at night in the relaxing environment. As stated before the community is gated, and surrounded by a large concrete wall, this means you can expect to be secure while you're inside these walls. The neighborhood is just above the city of Orlando, meaning all your necessities and possibly your job are just a few minutes away! Just across the street is a the esteemed Orangewood Christian School, perfect for families to make a short drive to school every morning, and knowing that your kids are just a minute drive away is always a relaxing and secure thought. If you're attending Strayer University it is only a minute's drive away!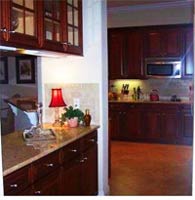 The Enclave is located right next to Lake Charity, one of the larger lakes that connects to smaller lakes and ponds in the surrounding area. This beautiful lake is visible from many of the houses in the development, and can be seen every time you enter the neighborhood. On the backside of The Enclave there is large field for activities and a small pond if you're interested in fishing. In the dead center of The Enclave is a beautiful gated pool surrounded by a villa and pillars overlooking the lake, this is luxury at its finest. Surrounded by palm trees and hedges this is the most relaxing way to enjoy your time at the community pool.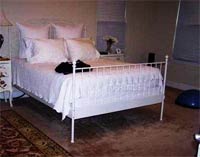 This gorgeous three bedroom two story house has a beautiful exterior and fantastic landscaping work. The house is greatly accented by the amazingly brick paved driveway leading up to a spacious two car garage. Behind the house facing the southern wall of The Enclave is a spacious porch with access from three sides. The sliding and French doors compliment the simplicity and relaxing atmosphere of the covered porch.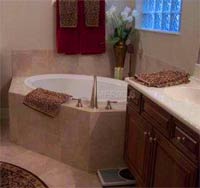 These three spacious bedrooms are great for a large or small family can easily be converted to an office or storage room. The house comes with three full bathrooms, and the master bathroom is fully equipped with a beautifully tiled floor, a great full sized, raised and oval bathtub located in between the two sinks with spacious counter tops. This bathroom has a stand up shower and more room that you could possibly imagine using, a perfect accessory for the master bedroom. Downstairs you can find a large office, and a family room, perfect for having company and doing business from home. Whenever you're buying a house one of the first priority places to look at is the kitchen, here at this beautiful house in The Enclave you will find one of the most beautiful kitchens in the entire development! With a wrap around counter, pantry and a unique windowed design into the family room you can enjoy cooking in this open environment all year round! The kitchen comes fully equipped with a built in oven, dishwasher, microwave and stove top! Under the bar from the kitchen is a small dining room perfect for a family dinner. These marble countertops and red wood cabinets are the perfect touch to the house that will make it go quick on the market!
Call Us Today!
(800)544-7646

Real Estate Contact Form